2023 Tech Trek camp attended by Coachella valley girls
18 students from Coachella valley middle schools were sponsored to attend the AAUW California Tech Trek program for a week on a college campus. These amazing students were nominated by their Math, Science or Technology teachers, completed an application, wrote an essay and then were interviewed by AAUW members. This summer, they completed a week-long intensive experience with STEM education and workshops, heard from inspiring women in STEM careers and interacted with other women and girls with a passion for STEM. 7 attended at the Whittier College campus, 7 at UC San Diego, and 4 virtual camp.
---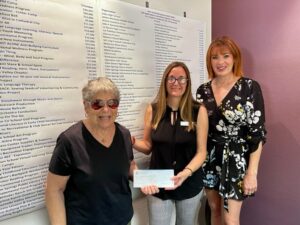 Pictured from L-R: AAUW Palm Springs grant writer Carol Marcuse, Anderson Children's Foundation representative Brianna Ulhorn and AAUW Palm Springs co-vice president of fundraising Gina Rotolo.
PALM DESERT, CA (September 7, 2023) – AAUW Palm Springs received an $11,000 grant from Anderson Children's Foundation to help send local middle school Tech Trek Girls to 2024 STEM Summer Camp programs. The STEM Summer Camp programs provide an incredible week of immersive learning for junior high school girls with focus in robotics, DNA, technology building programs and many more activities that foster a desire for further education within science, technology, and mathematics fields.
---
2023 Tech Trek STEM Camp – UC San Diego, Whittier College, UC Santa Barbara
CREATES INSPIRATION, EXCITEMENT AND CONFIDENCE FOR YOUNG WOMEN ABOUT TO ENTER EIGHTH GRADE
Tech Trek is a weeklong academic residential camp featuring hands-on activities in science, technology, engineering and math (STEM). Instructors include credentialed middle and high school teachers and professional women in STEM related careers. Camps are located on a university or college campus where campers are immersed in the full campus experience. A hands-on Virtual Tech Trek week is offered for those students who cannot leave home.
How Tech Trekkers are chosen
Every girl attending a Tech Trek STEM Camp is on a sponsorship and is recommended for the program by her middle school science or math teacher. Local AAUW branch coordinators give schools and teachers guidelines for nominating campers. Recommended girls and their parents are contacted and girls complete an application and essay. Local AAUW members interview prospective campers and then select the number of campers based on the amount of sponsorship money raised – $1,100 per girl. Parents are asked to contribute $50 of that.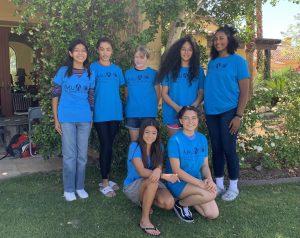 ---
2022 Tech Trek Campers – Coachella Valley
Faculty and staff
Excellent, experienced teachers have qualifications including superior knowledge of their subjects and a high degree of interest in working with middle school girls. AAUW adult volunteers act as Dorm Moms. Each camper is assigned to a small "family" group with the same Dorm Mom for the entire week. Volunteer high school and college girls (former campers) assist teachers and other staff. A Registered Nurse is also on the Camp staff.
Workshops and Field Trips
Field trips & workshops encourage maximum interaction and learning. An important part of the camp is the university campus experience. Campers have the opportunity to live the life of a college student for the week. They will live in the dorm, have a roommate (a fellow camper) they've never met, share communal bathrooms, eat in the dining commons, and explore the campus area under the careful supervision of camp staff. They also interact with women who serve as role models, introducing them to a wide range of STEM academic & career possibilities.
AAUW – National Tech Trek Statistics
https://www.aauw.org/resources/programs/tech-trek/
Palm Springs Branch TT Co-Coordinator:
Janet Hartzler Braslow, M.D.
jhbraslow@gmail.com
Tech Trek STEM Campers in our area are funded by donations from AAUW Palm Springs members and individuals in the Coachella Valley who support STEM educational opportunities for girls.
Donations are tax deductible: For Palm Springs area Camper tuition, send checks to: Phyllis Dunn TT Treasurer
PO Box 11423,
Palm Desert, 92255-1423.
Make checks payable to: "AAUW CA SPF". On the Notation line write: "Palm Springs Camper SPF"
AAUW advances gender equity for women and girls through research, education and advocacy.
The AAUW National Tech Trek Program seeks to create a learning environment that fosters and promotes a culture of respect across identities. We welcome and value intersections of identity, including gender expression and identity, race, economic status, sex, sexuality, ethnicity, national origin, first language, religion, and ability. Please note: Placement of transgender youth is handled on a case-by-case basis, with the welfare and best interests of the child a top priority. That said, if the child is recognized by the family and school/community as a girl and lives culturally as a girl, then AAUW is an organization that can serve her in a setting that is both emotionally and physically safe, as we do for all our girls.
This is a great way to get involved with your AAUW Palm Springs Chapter!
---
Latest Tech Trek Update, March 1, 2022, by Janet Braslow
We have received final word about the number of camper slots that we have for 2022. Great news- we will be able to send 9 campers to Tech Trek camps divided between Whittier and UCSB.
Tech Trek is a STEM (Science, Technology, Engineering, Math) camp designed to develop interest, excitement and confidence in young women who will enter eighth grade in the fall. Activities are held on the university campus where campers have the chance to live the life of a college student. They will experience community living – eating in the dining commons, sharing a dorm room with a roommate they've never met – all under careful staff supervision.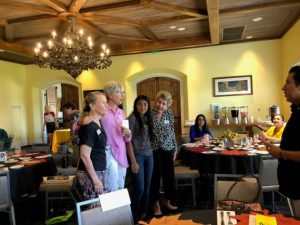 At each camp, girls receive an in-depth, week-long course focused on STEM core classes that they attend daily. Rotating labs are designed to explore individual specialties more deeply. Girls also take shorter math and science-related and off-campus field trips that encourage maximum learning.
Help us choose Trekkers!
Every girl attending a Tech Trek STEM Camp is on a full sponsorship, and is first recommended for the program by her middle school science or math teacher. Recommended girls and their parents are contacted and girls are asked to write a short essay.
Local AAUW members interview prospective campers. From there they select the number of campers, based on the amount of sponsorship money raised.
Join the young women on their experience!
AAUW member-volunteers serve as dorm moms, camp nurses and classroom aides. High school and college girls (former campers) provide assistance to teachers and other staff.
Tech Trek STEM Camps are funded by donations from AAUW members, the community, grants from entities such as Verizon & Symantec.
Donate to the AAUW Funds: Click here for Funds Info
Donate in memoriam: Liliane Shuman Elizabeth Nash Lucille Fostveldt
Interested in supporting our young women but have questions about the program? Please feel free to email us at aauwpalmspringsbranch@gmail.com.
---

University Women: Empowering Women, One Girl at a Time
Dr. Mona Khanna, Special to The Desert Sun
Lucky Coachella Valley eighth grade girls can thank the Palm Springs chapter of the American Association of University Women for helping to launch their careers in science through a unique camp opportunity. That's because when these local women set their sights on something, they are unstoppable.
Unstoppable also characterizes the careers of these AAUW members. Take Sharrell Blakely. She started her career as a clinical social worker and became a leading California voice in child welfare reform, creating the Office of Child Abuse Prevention and the Pregnant and Parenting Women's Alternative Sentencing Program. Working under five governors, she also advanced child policies through the Family and Children's Policy Bureau and Adoptions Bureau for the state. Her accomplishments, she said, were only the means to an end — the protection and advancement of children and their families. She is an avid AAUW member who prefers, instead, to talk about the organization's achievements.
Its signature program, Tech Trek, provides "a life-altering experience that significantly impacts girls' educational path in high school and leads to college admissions."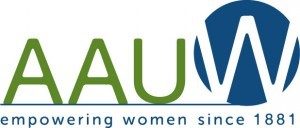 AAUW advances equity for women and girls through advocacy, education, philanthropy, and research.